KANEKA OLED benefits Quality management initiatives
in compliance with international standards
Quality policy
May 15, 2016
We will apply this policy to help lead the world in creating a culture of OLED lighting, and develop businesses offering OLED lighting products and services of the highest quality.
We aim to gain customer trust and satisfaction by consistently providing reliable quality.
Through the creative merging of people and technology, we will pursue the highest level of quality and safety in the market, and make further efforts to protect the environment.
We will fully commit to compliance with laws and regulations related to quality and services.
We will comply with the requirements of the quality management system, efficiently implement the requirements, and undertake continuous improvements.
ISO certification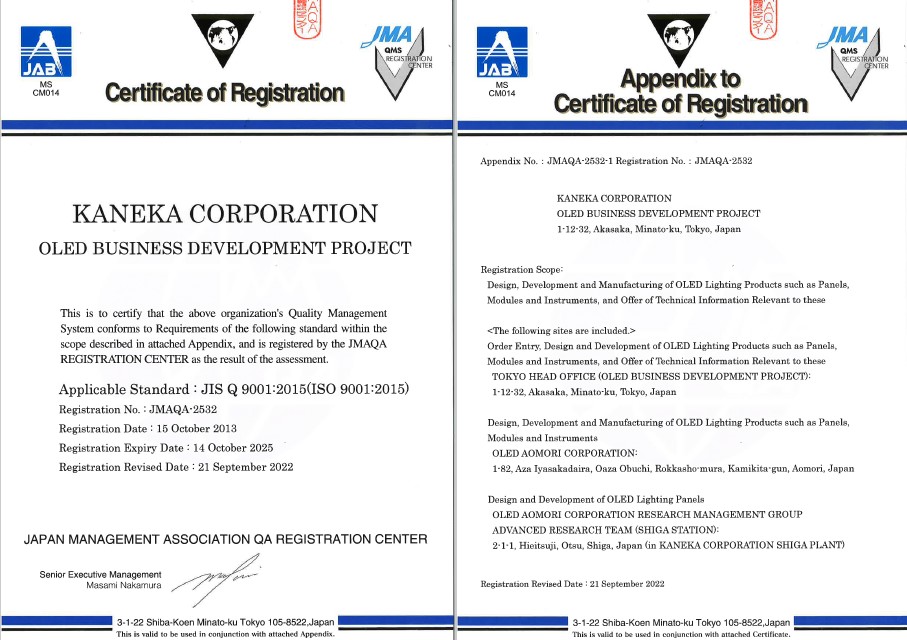 KANEKA OLED lighting business entity acquired the ISO9001 certification, the international standard that specifies the requirements for a quality management system. Our production system that is deployed under strict management meets global standards.
OLED lighting panel Factory
KANEKA OLED lighting panels are developed and manufactured at OLED Aomori. OLED Aomori is endeavoring to achieve stable quality and customer satisfaction under the quality control based on ISO9001, which was acquired by KANEKA OLED lighting business entity.
OLED Aomori also acquired Eco Action 21, which is the guideline for the environment management system and environmental reporting that are specified by the Japanese Ministry of the Environment.
Manufacturing based on the Made in Japan principle
The OLED lighting panel, which is the core of OLED lighting, is developed and manufactured by OLED Aomori.
OLED Aomori is dedicated to the manufacturing of high quality lights and puts great care in manufacturing based on the Made in Japan

Safety standards
All KANEKA OLED lighting panels are designed so as to comply with RoHS directive and UL Standard. (*)
The UL standard can also be checked by accessing UL Online Certificate Directory.
For the safety standards of modules and products, please consult with us.
For more details, please contact us.
(*) For the new panel products that are being verified for UL certification, the UL certification will be acquired in due order.